"Your most unhappy customers are your greatest source of learning"
Bill Gates
Every business would love to receive only positive customer feedback. But don't you think it would look suspicious if a company had a 100% satisfaction score? The truth is negative feedback and bad comments will happen, because no company is perfect. There's always room for improvement. Lower satisfaction scores suggest your business could do better. And why wouldn't you want to improve?
LISTEN TO CRITICISM TO GROW YOUR BUSINESS
No business would ever be successful if it didn't listen to its customers and consider their needs. So, look at negative comments and scores as an opportunity to grow and improve your business. Surveys provide an easy way for unhappy customers to provide details about their disappointing experience. That means you'll get the chance to understand exactly where the problems occurred and how you can eliminate them in the future.
For example, customers who leave negative feedback at attractions are often frustrated with long waiting queues. Find ways to reduce the perceived waiting time. Improve your queue management system and give your customers something to do whilst they wait. Your visitors will have a significantly better experience, which will reflect on satisfaction scores.
INNOVATE WITH CUSTOMER INSIGHTS
Negative feedback can give you good ideas on how to innovate your company in the future. But you'll only gain useful insights if your survey design is right. Make sure your customers are able to explain the reasons behind the scores they give you.
Ask people if they had any difficulties using your product or accessing it. Regularly track how your customers respond and identify what works and what doesn't. Learn to read between the lines and interpret your data to add new product features and expand your customer base.
It's also important your business adopts the latest trends to stay relevant and attract a wider audience. Use negative feedback to find out what the consumer will need tomorrow and start delivering.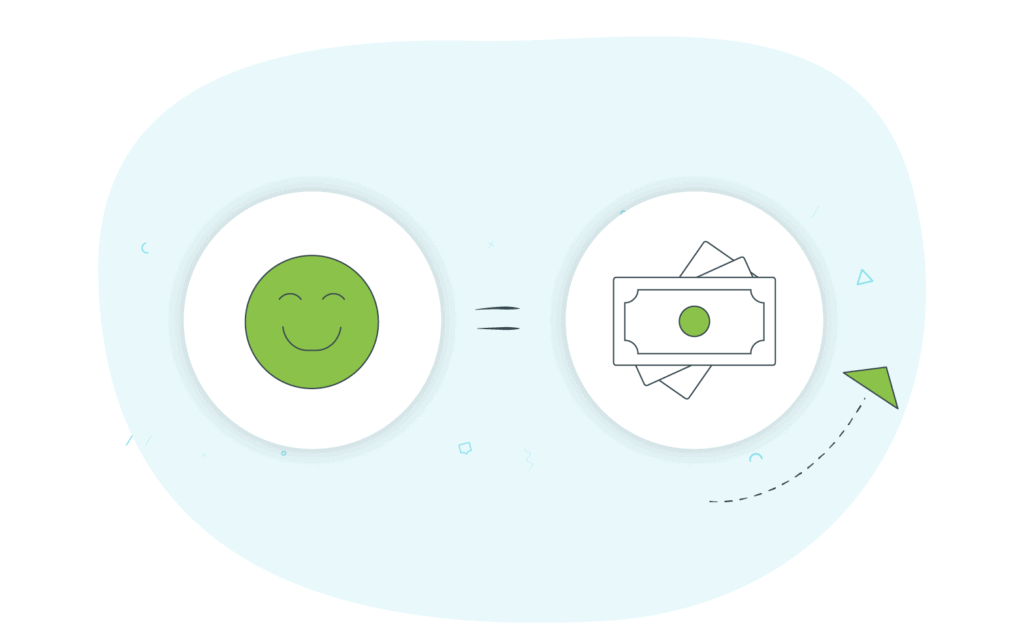 SHOW OFF YOUR COMMITMENT TO CX
According to Salesforce, 76% of consumers expect companies to understand their needs and expectations. 67% say their standards for good experiences are higher than ever. This shows that it's no longer enough for brands to just meet customer expectations. You've got to exceed them.
The same research study found that 57% have stopped buying from a company because a competitor offered a better experience. Therefore, it's important you listen and act on the negative comments. If you ignore people who express their dissatisfaction in your surveys, or make it difficult for them to give feedback, you'll never be able to stand out from your competition.
One of the most common reasons for stopping doing business with a company is unfriendly and unknowledgeable staff. So, if your feedback surveys suggest problems with your customer service, investigate employee morale and engagement, or invest in extra training.
Understandably, CX improvements and innovations cost money. But a PwC study found that 42% of consumers would pay more for a better experience. This shows how important CX actually is. It's worth investing in it in order to retain customers and stay profitable.
ENCOURAGE NEGATIVE FEEDBACK
Negative comments can help find business problems and become more customer-centric. Why not encourage your unhappy customers to give you feedback?
According to Reputation Refinery, the vast majority of unhappy customers won't complain to you, but will tell 9-15 friends about their negative experience. But interestingly, Harvard Business Review study found that customers who receive a response to their complaint within 5 minutes go on to spend more money in the future. This shows that encouraging unhappy people to share their comments could be beneficial to growing your loyal customer base.
Here's your checklist on how to get started:
Make it easy for everyone to give you feedback. Place your survey kiosks in high footfall areas and gather post-visit feedback online. Have your staff inform the customers of the opportunity to express their opinions either in-the-moment or in the comfort of their homes.
Train your staff to give them confidence and skills to tackle unhappy customers. Educate them that the input of unhappy customers is invaluable to your growing your business.
Ensure you have the right follow up strategy in place. Always respond and listen to those who were dissatisfied with your product/service.
Get everyone in your business involved to prevent losing more customers.
Next week we'll cover how to handle negative feedback, so don't miss it!