Following on from our previous blog post, Why negative feedback is good for your business, let's look at how to deal with it in order to retain your customers and maintain a good reputation.
1. LISTEN TO FEEDBACK
Whenever you collect feedback from your customers, listen to it. Otherwise, what's the point? Microsoft report found that 77% of customers have a more favourable view of brands that ask for and accept customer feedback, but only half believe that brands take any action on their feedback. Prove your customers wrong. Criticism might be hard to hear, but it's invaluable to growing your business. Read all comments carefully to understand the problem. This way you can prevent it from happening again in the future.
2. PUT YOURSELF IN THE CUSTOMER'S SHOES
Think about how you'd like to be treated if it was you who had a bad experience. Ask yourself why someone reacted that way. Try and understand how it could have impacted their day, holiday, or special occasion. Show empathy and do everything to remedy the situation and improve customer experience to prevent them from switching to a competitor.
3. SPEED UP YOUR RESPONSE TIME
50% of consumers who had a poor experience give brand only one week to respond before they stop doing business with them (Oracle).
42% expect a response to a complaint on social media within 60 minutes (Convince & Convert).
Those who receive a reply to their complaint within 5 minutes, go on to spend money in the future (

Harvard Business Review

).
The time you take to respond to a customer's complaint can significantly impact their perception of your customer service and business in general.
A handy feature provided by Avius Surveys is Survey Alerts, designed to help you speed up response and resolution times to customer queries. Whenever someone leaves negative feedback, your relevant employee will get notified within 30 seconds. That way they can quickly respond to the unhappy customer, resolve the issue, and leave them delighted with the service – before they even leave your premises.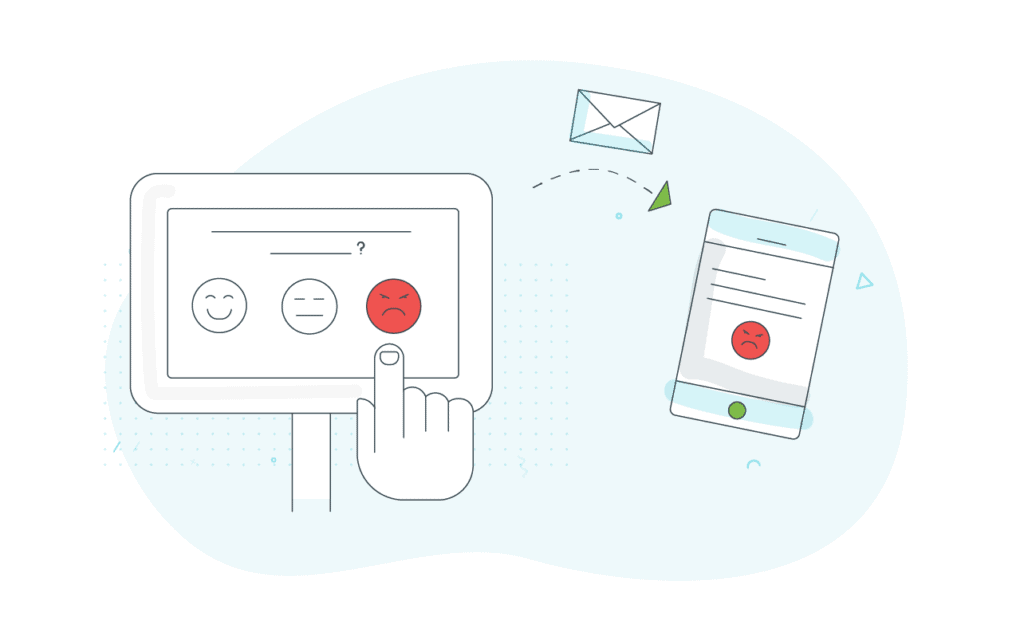 4. ALWAYS RESPOND TO NEGATIVE FEEDBACK
Your follow-up strategy is crucial to improving customer satisfaction and retaining your customer base. According to Bain & Company, increasing customer retention rates by 5% increases profits by more than 25%. Therefore, it's important not to ignore your unhappy visitors.
Instead, be thankful for their feedback and let them know you take it seriously. The way you follow up will either make them want to stay with you or leave. So, be polite, respectful, and most importantly, make sure you always answer their query or complaint.
Explain how you're going to deal with their feedback so that any problems they raised won't happen again in the future. If you can, offer them a discount or an upgrade on their next purchase/visit. Common courtesy goes a long way.
5. USE FEEDBACK AS AN OPPORTUNITY TO LEARN
View negative feedback as a positive thing. Ultimately, if your customers didn't want you to take their comments on board, they wouldn't bother with completing your satisfaction survey. Feedback can provide you with so many valuable insights and give you good ideas on how to innovate and improve customer experiences. So, embrace it and encourage all customers to share their comments.