Anti-bacterial Survey Screens
Collect customer feedback and protect your respondents with our new anti-bacterial survey screen protectors. It kills bacteria on the screen of your survey kiosks.
Anti-bacterial logo reassures respondents

Eliminates 99.9% of bacteria

Laboratory-approved protection against typical dangerous bacteria on devices, especially MRSA

ISO 22196 accredited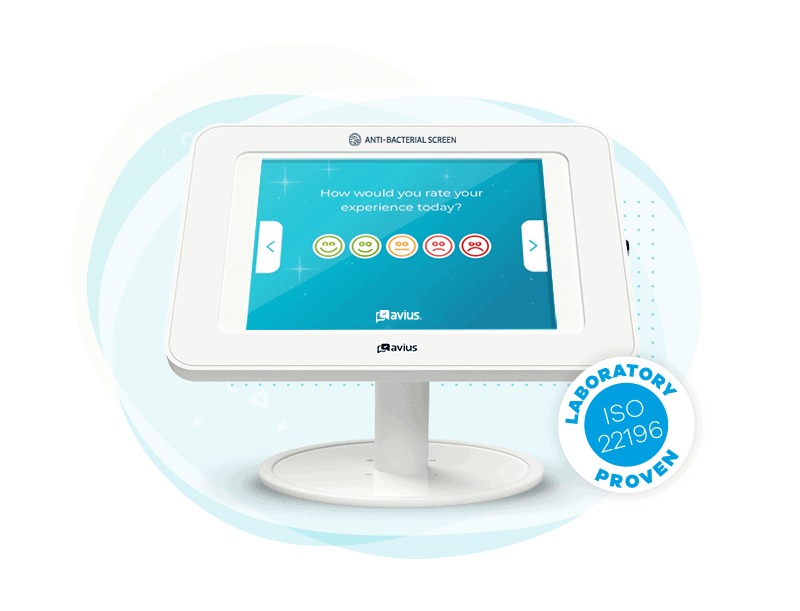 HOW IT WORKS
Anti-bacterial agents are technologically embedded in the screen protector´s outer layer, killing the bacteria on the display of your survey device. These active metal-oxide agents are harmless to the human body but deadly for the bacteria. This ensures that users are safe whenever using your customer feedback touch-screen kiosks.
The anti-bacterial screen layer is solvent resistant, so you can clean your survey kiosks and screen as normal.
The survey screen protectors have been tested by Quality Labs BT GmbH in Nuremberg, an accredited laboratory by the German government, under the anti-microbial norm ISO 22196.
The anti-bacterial screen protector should be replaced every two years to ensure continuous protection for your customers.
ADDITIONAL BENEFITS
Anti-glare ensures users can easily read your customer feedback survey

Scratch protection keeps the device in good condition

Touch optimization means the responsiveness of your survey doesn't change

An anti-fingerprint layer prevents smudges on the screen