OPTIMISE RESPONSE RATES WITH GOOD PLACEMENT
Where you place your survey kiosk will have a huge impact on the number of results you receive. If you hide your survey point in a corner or a cupboard, (yes we have had one client do that), unsurprisingly you won't get much feedback.
To maximise the number of respondents providing feedback, your survey kiosk should be located in a high foot-fall area. It should be easily accessible but not in the way of other people.
The location will be different depending on your business, and the objectives of your survey.
Hotels – in reception or at restaurant/bar exits

Airports – Exits of toilets/restrooms, shops, restaurants or near security

Restaurants – Outside the toilets/restrooms or near the exit

Retail – Near the exit or in the changing rooms

Universities/High Education – Near the entrance/exit, in the library, canteen

Healthcare – in the waiting room or reception

EMPLOYEE SURVEYS
The advice for survey kiosks collecting employee feedback could be completely opposite to those for customer feedback. You still need to place the survey points in high footfall areas, but you also need to consider privacy.
To get really honest feedback from employees they need to feel comfortable that their feedback is anonymous. The survey kiosk should be away from CCTV, management and have a little privacy.


WHO'S LOOKING OVER MY SHOULDER
Whether you're collecting customer or employee feedback, make sure they have privacy when completing your survey. If the respondent feels like they're being watched, they won't leave as honest or detailed feedback.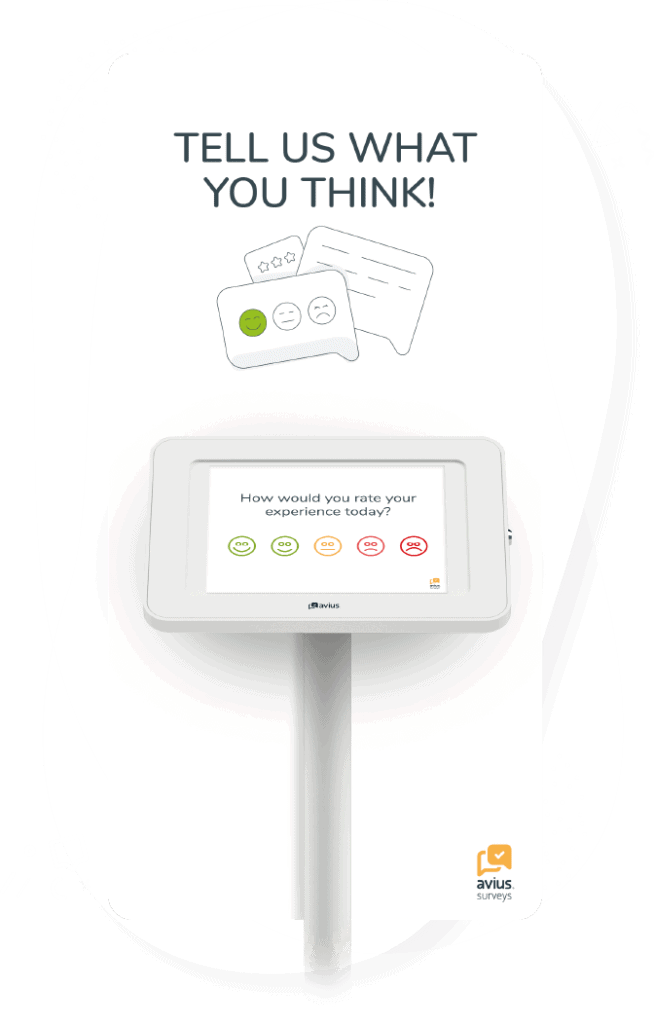 CREATE AWARENESS
As well as locating your survey kiosk in the best possible place you'll need to create some awareness. We usually create a 'brand board' with a call to action, designed to your match your brand guidelines.


NUMBER OF KIOSKS
You should also consider the number of kiosks you have. If you have a large site or premises with high footfall, you may need multiple survey kiosks in different locations. Ensure you have good coverage to capture feedback from as many customers as possible, so you don't miss out on vital feedback. A slightly annoyed customer could soon turn into an angry customer if they've had to wait to give feedback.


DIFFERENT TYPES OF KIOSKS
There are different types of stands available to suit your requirements. Most clients choose the floor-standing kiosk as it's usually the easiest to install. However, you may choose a wall-mounted one to take up less floor space, it's also easier to clean around. You could also choose a desk-mounted stand.


HERE TO HELP
If you're not sure where to place your survey kiosks, or what type of stand is best, the Avius team are here to help. Our knowledgeable team can advise on the best solutions for your business.