Imagine you've purchased a family ticket to the amusement park online. On arrival, you receive a text message from the park:
"Thanks for visiting us. We hope to see you again soon! Click here to take our survey and tell us about your experience."
But you've only just got there!
Even more annoying, you didn't receive another message or email after you had left the park…
ILL-TIMED FEEDBACK REQUESTS CAN REDUCE RESPONSE RATES
Looking at the example above, most customers wouldn't bother filling in the survey after all. That means the business spent money on deploying a satisfaction survey just to miss out on potentially valuable suggestions for improvement.
Poorly-timed surveys not only impact response rate, but also customers' overall experience and likelihood of coming back. Avoid frustrating your customers in the future by ensuring they receive your feedback survey at the right stage of their journey.
MAP YOUR CUSTOMER JOURNEY
There are multiple ways your customers can come into contact with your brand. Ensure no interaction slips through the cracks, break the journey down phase by phase to see all touch-points. That will help you find out when exactly to send out an online survey and where to place your survey kiosks to ensure a high response rate.
PLACE YOUR SURVEY KIOSKS AT KEY TOUCH-POINTS
To capture more honest feedback, collect it at the point-of-experience. Survey kiosks enable customers to complete the survey when it's convenient to them and when their experience is still fresh in their mind. If you place your kiosks in high-footfall areas at key touch-points, you'll get a more accurate picture of the customer journey.
Read more about where to place your survey kiosks.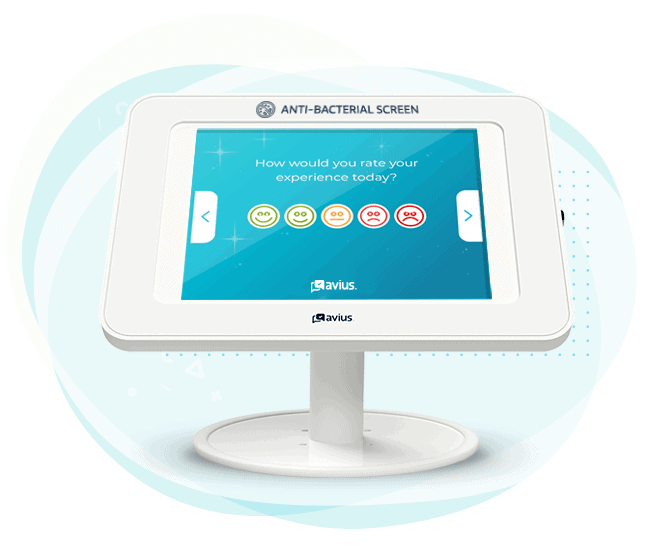 WHEN TO DISTRIBUTE ONLINE SURVEYS
a) EMAIL SURVEYS
Send it after the customer's visit, as soon as possible to get the most accurate feedback. For example:
After they visited your attraction or flew with you

As soon as they've booked a ticket or renewed a membership

After a call with your customer care team, send an email to ask if you've resolved their issue
You should also look at your own analytics to find out the best date and time for distributing online surveys to achieve a bigger sample and gather more valuable insights.
b) IN-APP SURVEYS
Trigger your survey automatically at certain points of the customer journey:
After a member has been to an exercise class to rate the instructor

When visitors checked into or out of the hotel

After a customer made a booking or purchase via your app

c) QR CODES
Add QR codes to posters, so when your customers are waiting in queues they can scan the code and fill in the survey. Or while they're on a bus to and from the airport terminal. You can also include the code on receipts, together with a link to help customers find it online. Ensure your satisfaction survey is mobile-friendly to increase response rates.
NEED HELP ALIGNING YOUR SURVEY TO THE CUSTOMER JOURNEY?
Ensure you receive valuable feedback from a high sample of your customers. Get in touch with our team who will help you align your satisfaction survey to the customer journey.
By Natalia Kaczmarek