You're probably experiencing a higher volume of customer enquiries than usual at the moment. It might be overwhelming, so here's some advice to help you manage them in Optimus more efficiently, whether you're working from the office or home.
SET UP NOTIFICATIONS
Set up case notifications and get notified via email when a case is assigned to you, if its state changes, or it gets reopened. You'll only receive an email if someone else makes the change. You can assign a case to yourself or change the status without triggering a notification. Click on the Account within Optimus to configure.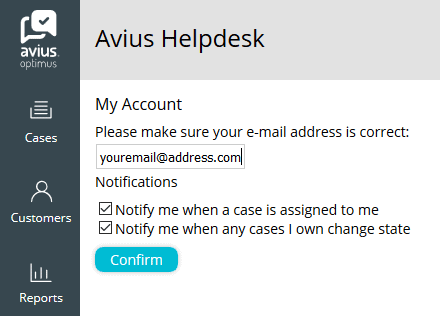 ASSIGN PRIORITY
To get through a high volume of enquires, it's important you prioritise certain cases and deal with them first. That way you can ensure the most urgent matters are at the top of the list. At the moment you might see an increased number of cancellations and refund requests. Keep your customers happy by prioritising these cases.
Tip: Click on any of the column headers to order the case list.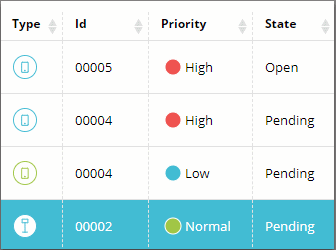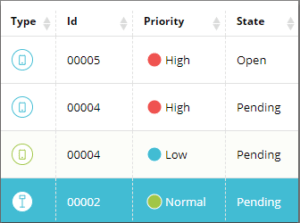 TAKE OWNERSHIP
With so many team members all working on cases at the same time, things can quickly get confusing with who is replying to what. Remember to set yourself as the case owner BEFORE starting work on the case. This will let your team members know that you've got this one.
LOOK AT CASE HISTORY
In Optimus you can view a complete case history. Before replying to a customer, make sure you know who has looked at and owned the case already and what steps have been taken to solve the issue.
See if the customer used multiple channels to contact you

Make use of looking at the last activity and when it was created

See other users viewing the case



CATEGORISE ALL CASES
It's important you add categories to every Optimus case. First, select whether a case is positive or negative. Then select which area of your business the case relates too.
That way you will be able to see the total of negative or positive cases, and which department customers are contacting the most. Track these trends over time to help you better manage enquiries in the future.
It's possible to make adding categories to a case mandatory. If you'd like this feature enabled, please contact our support team.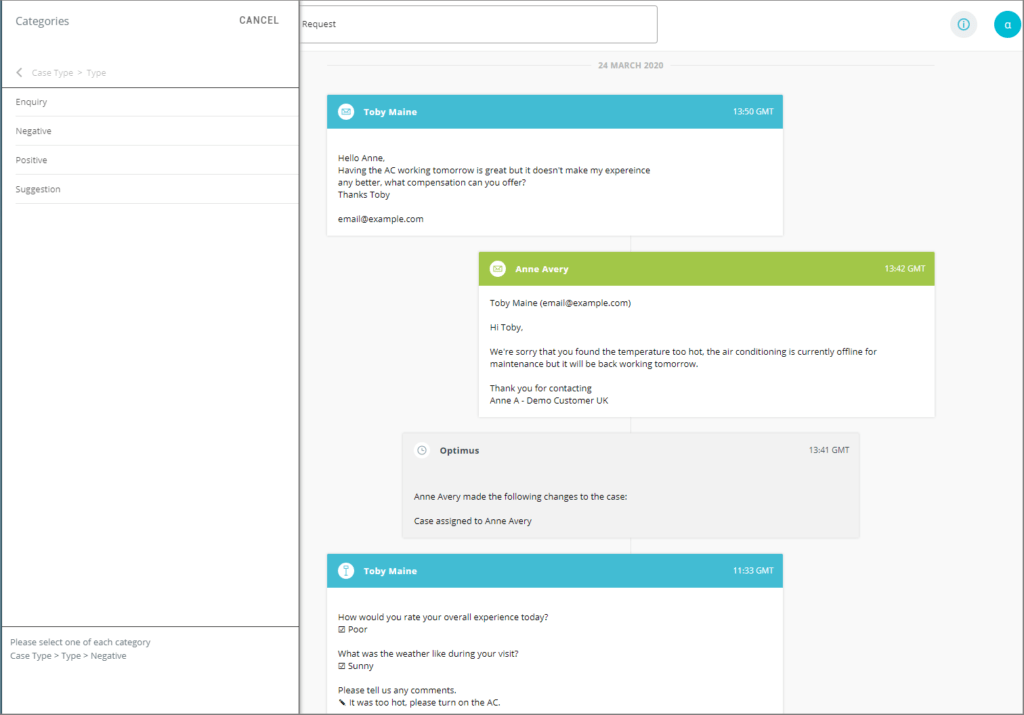 USE NOTES
If you're working on a particular case, add notes. When you come back to it, or you're off-sick and a colleague picks the case up, it'll be much easier.
ESCALATE AND FORWARD CASES
If you're the wrong person to help with a particular customer enquiry, forward it to your colleague. You can easily share customer details across locations.
For more urgent or complex cases, it's easy to escalate them to management.
EDIT AUTO-REPLY
Contact the Avius team to edit your auto-reply, make it more personal and inform customers you're dealing with a high volume of enquiries at the moment.
STRUGGLING WITH A HIGH VOLUME OF ENQUIRIES?
We've made updates to Optimus to ensure it's ready to process the increased volume of enquiries. If you're experiencing high volumes of communications, let us know and we'll do our best to assist you.
By Oliver Warren