Customer satisfaction levels across a range of retailers have endured the longest period of decline since records started in 2008, according to a report by The Institute of Customer Service (2020).
Decreasing satisfaction can lead to losing shoppers to competition and facing bigger costs that come with acquiring new customers – the cost of attracting a new customer is 5 times higher than keeping an existing one (Invesp).
A good in-store shopping experience can encourage your customers to spend more time and money with you than they planned to, and convince them to return and buy from you again.
DON'T JUST COLLECT CUSTOMER DATA – ACT ON IT IN REAL TIME
Supermarkets collect an immense amount of behavioral and demographic customer data from loyalty cards, but they seem to struggle with how to use it to improve customer satisfaction.
Loyalty cards offer great insights into consumer behavior, but to improve in-store satisfaction, you also need to be able to identify and eliminate issues fast.
Deploy real-time surveys at different touchpoints across your supermarket and receive customer feedback you can act on immediately.
Call for more staff to help reduce queues at checkouts and deli counters, bring more shopping baskets to the front, and clean up spillages on the shop floor before complaints pile up (or an accident happens). Ensure there are enough products on your shelves and your click & collect service is running smoothly.
Get in touch with our team to discuss the benefits of in-the-moment feedback surveys to your supermarket.
FOCUS ON THE CHECKOUT EXPERIENCE
Regardless of how many customers shop online now, some will continue to prefer and visit your brick-and-mortar stores.
According to Which?, here's what often impacts customers' in-store experience: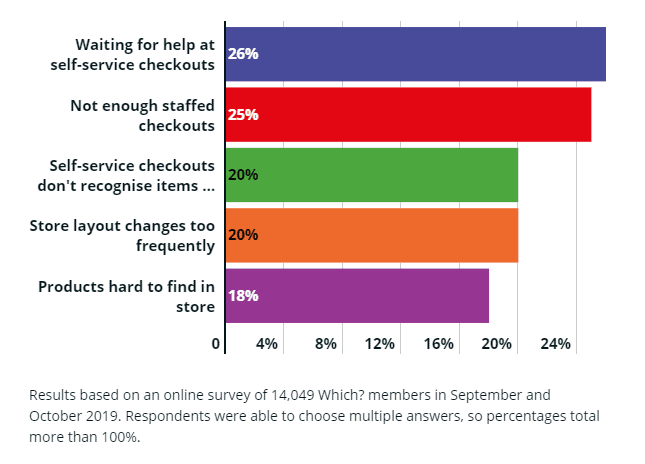 The checkout experience can impact customer satisfaction the most. Let's be honest, people want to do their shopping, pay for it quickly, and leave.
Help reduce queues by ensuring you have enough checkouts open, especially late afternoons and at the weekends. Have more staff at hand at self-service checkouts to assist customers with those unexpected items in the bagging area.
Regularly analyse your survey insights to help you predict in-store traffic and queue length to facilitate optimal lane scheduling and cashier staffing.
As an additional way, use real-time survey alerts to spot queues forming so you can open more checkouts and improve customer satisfaction there and then.
DELIVER EXCEPTIONAL CUSTOMER SERVICE
Customer service is always going to impact how shoppers perceive your business.
Ensure your employees have the knowledge and ability to answer all questions, and spot and solve all customers' problems effortlessly and in a timely manner.
If you map your customer journey correctly and regularly analyse your survey insights, you should be able to anticipate issues and train your staff to minimize and/or successfully resolve them.
Read more about how you can achieve customer service excellence.
WIN CUSTOMERS OVER WITH GREAT EXPERIENCES
73% of shoppers point to customer experience as an important factor in their purchasing decisions

(PWC)

57% of consumers have stopped buying from a company because a competitor offered a better experience (Salesforce)
Offer a friendly and welcoming service from the moment your customer steps through the door. Invest in and integrate technology that will make the shopping process smoother and more enjoyable. Pay closer attention to the layout and cleanliness of your store – 67% of shoppers have walked out of a store before because it wasn't clean (ServiceChannel).
With so many supermarkets offering quality products at great prices, you should no longer compete based on price alone. Stand out amongst your competitors and deliver memorable in-store experiences to improve customer satisfaction and loyalty.
By Natalia Kaczmarek