Overall experience rating
As CX drives over two-thirds of customer loyalty (outperforming brand and price combined), the impression you leave your customer with is vital to the sustained growth of your business (Gartner).
Monitor your Customer Satisfaction Score and Net Promoter Score to give you a good overview of your customers' experience with your brand. CSAT will help you evaluate customers' happiness at that particular point in time, whilst NPS measures how likely someone is to promote your business.
If someone had a positive experience, they are more likely to come back and recommend you to their friends. According to a recent report by SitelGroup, 49% of consumers would post a positive review online or on social media to get others to make a purchase from a brand with which they had a good experience. On the contrary, dissatisfied customers are likely to tell 9-15 people about their bad encounter with your brand (Reputation Refinery).
So, look at your experience ratings to review and polish your CX strategy, test new ideas, and optimize key customer journey touch-points.
Insights on how to improve your products or services
All customers, whether satisfied, neutral or unhappy, can provide you with suggestions on how you can improve their CX journey. If from the feedback you notice that customer service is letting you down, dig deeper to find out exactly what's causing it. As 73% of consumers believe that great customer service is what makes them stick with a brand, make sure your employees deliver that level of excellence.
If long queues affect the overall satisfaction scores, think about investing in digital screens to show estimated wait time, or provide entertainment to alter the perception of how long people actually spend in a queue.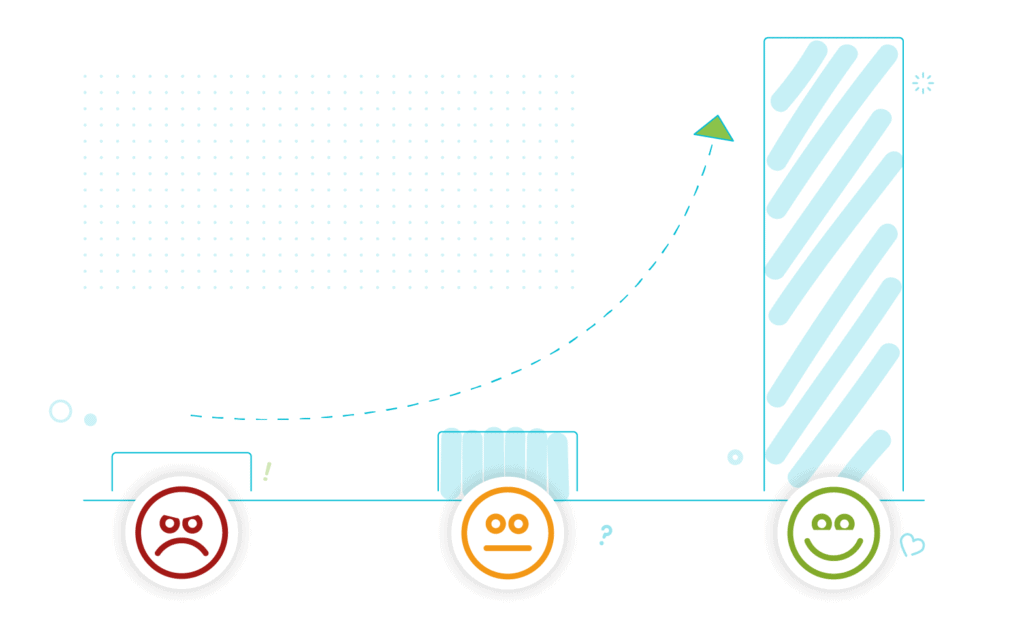 OPERATIONAL FEEDBACK
Business success or failure relies heavily on its operational efficiency. Reviewing company's operations regularly is crucial to improve procedures, allocate or relocate resources, and manage the budget.
Review staffing schedules
If you receive a lot of negative feedback, for example about the cleanliness of your facilities, you should act on it. Review the efficiency of your procedures, your staffing schedules, and employee productivity.
By listening to feedback, you'll be able to change the cleaning rotas to ensure your toilets are kept clean, well-maintained, and well stocked-up at all times. Or lessen waiting times in certain areas by allocating more staff at peak times.
Improve problem resolution time
To help you speed up the response and resolution times, use instant survey notifications. Thanks to the alerts, you can quickly identify and eliminate problems that negatively affect your business. Within 30 seconds you can get notified of a spillage or a broken lift, allowing you to inform the right personnel and instruct them to quickly attend and deal with the issue.
Eliminate inefficient processes
Collecting customer and employee feedback is a great way of finding out what's working well and what isn't. Survey scores as well as comments can provide valuable insights into how the company is delivering its services. The data you capture can help you spot the patterns that indicate wasteful or inefficient processes.
Operational feedback, if acted upon, can be invaluable in helping give your business the edge. Eliminating reoccurring problems will not only make your processes more efficient, but also contribute to the increase in your customers' satisfaction and loyalty.
TOP TIP
Always include a free-text question in your satisfaction survey to give customers (or employees) the opportunity to explain the reasons behind their scores. That way you'll receive valuable insights; from customers' needs and expectations to inefficient operational processes.
If you'd like expert advise on how to measure customer or employee feedback, contact Avius for a chat.